Removals
Moving is one of the five most stressful things we can go through in life, so why not let First Class Removals relieve you of that stress? We cater to your every need and we can help whether it is moving just down the road, or moving all the way to the other end of the country.

Here, at First Class Removals, no job is too big or too small. So, you need the contents of your four bedroom house moved to Scotland? No problem. You need something collected and taken to your friend's house? No problem. You might say "I've got three beds, a dining table and a massive wardrobe that will need dismantling and reassembling at our new property". "Can you do that?" Yes, we can. All you need to do is take care of the legal part of the move and we can take care of the rest.

We may not be the biggest removal company out there, but for every move we undertake, we like to think that the customer feels they are having a friend move them, with the added benefit of our professional and high quality standards. Yes we are a business, we are a removal company with over ten years' experience, but our main concern is that our customer is happy and stress free, confident in the knowledge that every item we move will arrive in exactly the same condition as we found it.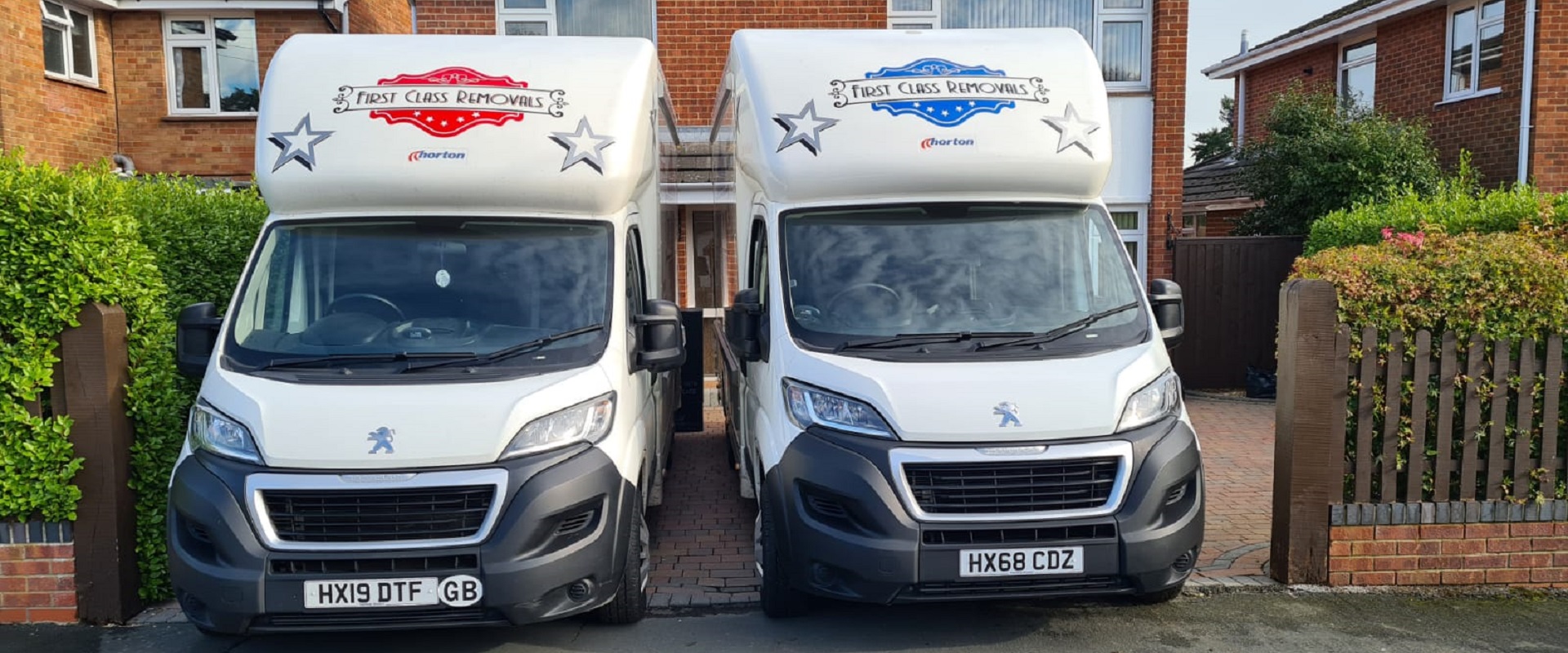 Full Pack
The Full Pack option is the most stress free service that we provide, where you don't have to lift a finger. Our team of experts arrive the day before you move and get everything packed up for you into boxes. So, whether it's your finest china or your kid's toys, we will pack everything. The team will carefully wrap all of your breakables in our wrapping paper and pack them into boxes. We also supply clear bags to pack up all your belongings that are maybe too big for a box, such as pillows and duvets.
Office Move
Not only do we move home contents from one address to another, we also undertake partial or full office moves. Whether you require just a few things moved from one office to another, or the contents of several offices moved to another building, or even the whole business moved to a new location, we can help. Our highly trained team are able to move anything from big printers to large conference desks. Nothing is too big or too small.
National Move
Moving, even if only a short distance can be stressful, but imagine moving to the top of Scotland. First Class Removals can help remove all the stress and can move you anywhere in the UK. During our 10 years as a removal company we have travelled all over the country – places like Edinburgh, Newcastle, Cardiff, Newquay, and many more of course. If you are looking to move, simply ask for a quote and see if you'll be taking us somewhere we haven't been before!
Part Pack
The Part Pack option is for people who want to pack up the majority of the home contents themselves, but don't like packing the breakables or don't know how to pack them safely. For this reason people often ask us if we can just pack up the kitchen and other breakables around the house, to ensure they are packed correctly and safely to avoid breakages.




Local Move
When you are planning a move but you are not moving very far, you don't want to be spending a fortune on removals. First Class Removals specialise in large or small moves within your local area e.g. Southampton, Winchester, New Forest, and all of the SO postcodes.





Single Item
We may be a busy removal company but we still find time to help people needing to move 1 or 2 items. Perhaps you have sold something or bought something that will not fit in your car. Simply give us a call and we can collect it for you, and deliver it to its required destination. Or, maybe you don't have time or can't dismantle a bed or a triple wardrobe that needs to be delivered to a friend's house or moved to another room. We can do that too, and we are just a phone call away.
2 Bedroom House
£ 350-450
3 Bedroom House
£ 500-600
4 Bedroom House
£ 700-800
How many boxes can I get?